Edward J. Murphy and Charles E. Rice first met as professors at Notre Dame Law School in 1969. As their families, friends, and the thousands of law students who crossed their paths over the next decades can attest, theirs was no ordinary friendship, but a deep, enduring one built on the simple premise that faith, morals, and uncompromising integrity should guide every aspect of their personal and professional lives. It was no surprise that Ed, a legend in the field of Contracts, and Charlie, in Torts and Constitutional Law, regularly joined forces to teach Jurisprudence to aspiring lawyers. Of course, Ed and Charlie were every bit as known for their quick senses of humor and always-respectful treatment of opponents.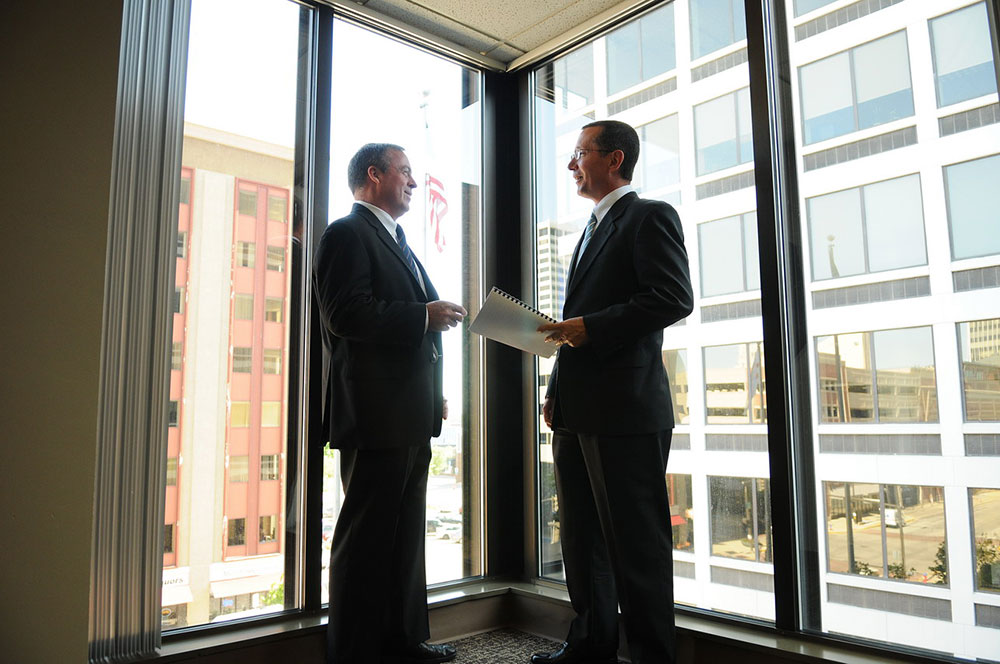 Ed and Charlie's sons, Pat and Charlie, have continued this tradition of excellence in Murphy Rice, LLP. Lifelong friends themselves, Pat and Charlie have built a practice that successfully combines exceptional legal caliber with integrity and sound judgment.
The attorneys at Murphy Rice, LLP have established solid reputations for combining the expertise, skills, and quality ordinarily associated with the litigation departments of large firms with the responsiveness and personal service that are traditional hallmarks of a smaller firm. We have successfully represented clients throughout the United States, ranging from Fortune 500 companies and small businesses to individuals.
Our practice is focused solely on litigation. We have substantial litigation experience in the areas of personal injury, wrongful death, products liability, breach of contract, insurance coverage, non-compete, trade secrets, business and employment disputes, and shareholder and partnership matters. We also defend law firms in attorney malpractice and disciplinary matters.
We are committed to providing our clients with aggressive, cost-efficient representation in federal and state courts and in all forms of Alternative Dispute Resolution. Our attorneys have extensive federal and state trial experience across a variety of substantive areas of the law. Our experience shapes the advice our firm provides on a daily basis. Our lawyers are seasoned litigators. Our experience and personal and professional skills not only give us an edge in the courtroom, but are invaluable assets as we counsel our clients before any litigation arises. We are creative problem-solvers who fully explore alternative resolutions before proceeding to trial. We also believe that sound, proactive legal advice can help avoid litigation problems down the road. At the same time, we understand that being prepared to win at trial is the most effective way to achieve a positive result for our clients before and during pretrial negotiations.

Our firm has the experience and resources needed to successfully represent our clients in even the most challenging cases. We continually integrate the latest in legal technology with an old-fashioned work ethic so our clients always receive an exceptional level of service. Our commitment to excellence helps us provide businesses and individuals, alike, with the responsive, common-sense legal advice and tenacious advocacy they deserve.